PYP Interview: The Diversity & Inclusion Board Chair Derrick Maultsby, Jr.
Pittsburgh Young Professional's (PYP) Public Relations Committee recently sat down with Derrick Maultsby, Jr., the board advisor for the newest PYP committee, Diversity & Inclusion, to discuss his accomplishments and goals for the future of PYP.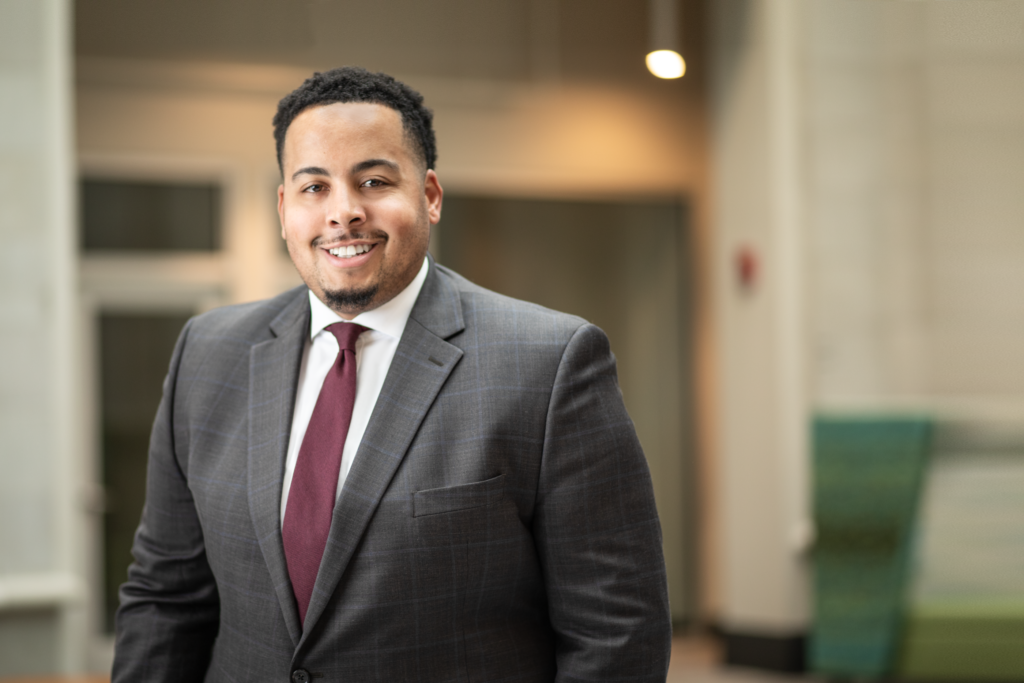 Derrick is a Pittsburgh native, corporate lawyer, and co-founder of both the Pittsburgh Tech & Data Summit and Tech Legal Clinic. He is an associate practicing business law at Jackson Kelly, LLC with a focus in corporate consultation and advisement in the technology, data privacy, small business, non-profit, and sports & entertainment spaces. Overall, Derrick describes himself as a "people person" and loves to build friendships and create a personable relationship.
What inspired you to join PYP?
"Over the past few years, I have been working in Pittsburgh and finishing my law degree at Duquesne University School of law. After graduating and completing the bar, I wanted to reach out to the greater community and begin to develop more connections, while meeting other young professionals in Pittsburgh."
What made you decide to apply for the PYP diversity board of advisors position?
"I believe that anything worth doing is worth doing all the way. I knew that I wanted to get involved in PYP with a position on the board of advisors, so I applied and was accepted. I feel that the members of PYP share the vision that Pittsburgh is a fantastic city and we strive to make an even better city for future generations.
I am passionate about supporting the black communities of Pittsburgh and increasing togetherness. I want to be part of the movement toward that togetherness and provide our members the tools to succeed."
The Diversity Committee is the newest PYP committee, what do you have planned for 2021?
"I don't really want to give too much away! However, as with anything new, I need to gauge where PYP is when it comes to diversity and inclusion.. In the past, there have already been steps taken to try and provide resources, in the spirit of diversifying the organization. ut you need to be intentional and strategic when approaching this challenge.
I want to begin 2021 by asking: 'how, as PYP, can we affect the most change in the community and our own organization? We want PYP to be the example of what Pittsburgh represents.Through events, conversations, and learning what is important to our people of color and how they got here, we will begin to build our focus.
Downtown, the diversity does not translate. You have to ask yourself why this is happening? As an organization dedicated to improving the greater community, , we need to pinpoint why; we need to find the resources to tackle this; and we need to help everyone see everythingPittsburgh has to offer and help all to feel included.
One of the things I want to do, as the board advisor and as a young professional in Pittsburgh, is get people to stay in this city and to help them see the potential of Pittsburgh through PYP."
What is the most interesting new development planned in 2021 for PYP?
"I think that it's the new board. The previous board was successful and helped to grow the organization, but anytime you get new leadership, led by a woman of color you get fresh ideas and perspective. I already developed fast connections with other board members and I can already see them embracing their roles and planning great ideas for PYP. These relationships need to be built with a firm foundation and will determine what PYP will become in the next 2-4 years."
Are there any PYP Diversity Committee developments that we have not addressed that you would like to do so now?
"Overall, I am just excited to get to work! I want to figure out new and creative (but effective) ways to engage with PYP. I want to bring in more individuals of color and show them our value by getting the resources and access that they need. And I want to address how we can use our platform to elevate the diverse communities."
As you can see, Derrick is off to a great start! He is a passionate individual with a desire to build strong connections and create a more diverse Pittsburgh. Derrick is a riveting speaker and a motivated individual, who will be a phenomenal asset to the PYP organization.
Authored by the PR Committee
filed under: Press Release
Tags: derrickmaultsby, diversity board, fun, jackson kelly, native, piitsburgh, pittsburgh news, pittsburgh young professionals